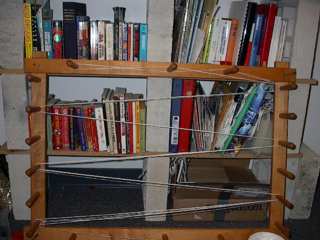 This table is covered with pieces of Eclipse's weaving, a photo album, 4 harness table loom, and drop spindle.
I started learning to weave from a friend, Tina W., when I was in gradeschool so I've been doing it for some time. It's not my primary means of creative expression though, and it's not really something that I do very often (once or twice a year), but I find it enjoyable.
Weaving....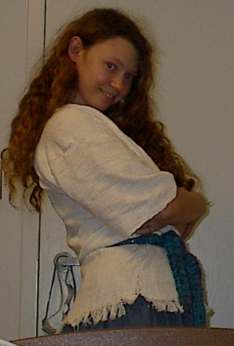 Here I model a white cotton shirt and scarf II.
Doll Blanket


This was one of my first projects.. I must've been about seven or eight years old. It's a dollblanket and matching pillow for my American Girls dolls ... I picked the colors and did the planning and warped the loom myself/with help from my weaving teacher. I think the yarn is cotton, and there are sparkly bits mixed in with the green stripes. Plainweave.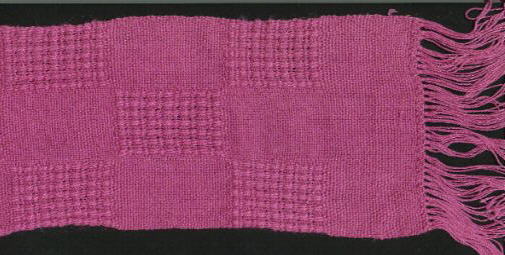 . . . Scarf I
This is a pink lace weave scarf. Acrylic?. . .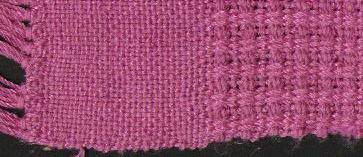 Scarf II
I did this scarf/sash on my table loom. Did all the planning and warping and weaving on my own, and liked how it turned out. I wear this as a sash sometimes, and use it to tie back my hair. I think the yarn is a rayon-cotton mix, loose and bumpy. Plainweave.
Scarf III
Marino and Angora--specifically, wool from Dreamer, one of my English Angora rabbits. This placed 1st in the Jr Division of the Bethel Sheep Festival Fiber Arts Competition. Basketweave.
Overshot I
This was my first overshot piece. I like it..
| | |
| --- | --- |
| Vest | Wove this for a vest for my dad. |
| Peach pillow | |
Baby Blanket for David
You can read a description of my experience making this. As soon as I find it again.
Red chenille. I cut this warp a long time ago, and it got hopelessly tangled before it went on the loom, so I bundled it up in a bag and it sat there for several years. Spring 2002 I found it and put it on the loom and wove it into this.