About Sarasota
Sarasota, Florida is a small city located in South Florida, south of Tampa and St. Petersburg. Transportation:
FYI: Julia and Ryan do not have their own cars or driving licenses. The Sarasota Bradenton International Airport (SRQ) is located ajacent to the New College campus. It is 10 min. by car from our house, and we could easily pick people up there. This airport is small, and flights there are often more expensive and involve more transfers. Economically speaking, the Tampa International Airport (TPA) is a better choice. Tampa is an hour by car from Sarasota and we cannot guarantee that we could pick people up there. The Sarasota-Tampa Express runs between the Tampa and Sarasota airports. Their schedule is on their website; it is currently $24 ($22 for students) cash. Within the city, those choosing to go carless can get around independently using the county bus system, SCAT. Schedules & maps on-line. Note it does not run Sundays. We will collect information on who will have cars and who will be where and coordinate carpooling on the day of the event!

Accomodations:
Make your reservations on-line at a wide variety of places and save some money.

Julia's nuclear family is renting a house on Lido Key for the week of the wedding. Ryan's nuclear family and maternal extended family members are all staying at a beach resort on Lido key. A large number of people (current count: Cliff, Andrew, Mike, Tina CW & Clair, Nick, Justin & Charlie) are staying at Julia & Ryan's house.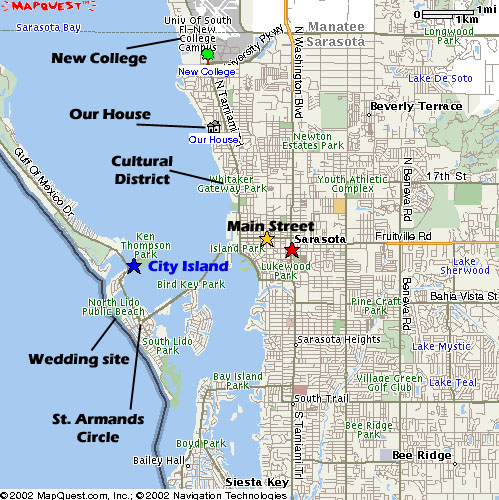 Attractions/Food:
Around New College: The John & Mable Ringling Museum of Art is to the south of the west campus. The Sarasota Classic Car museum is to the south of the east campus. The Asolo Theatre is south of the campus library. All are worth checking out. Our House is located right next to the Sarasota Jungle Gardens. We're a short walk from a Winn-Dixie grocery store, a Wal-Greens, and a small patch of bayfront. The Cultural DistrictFor classy entertainment, there's the Van Wezel, a small history museum, and a small art museum. Not too far away is the Players Theater. Mainstreet: is very nice. Attractions include the main branch of the county library system, and the Sarasota opera. A usual hangout for NC students is Regal Cinema's Hollywood20 movie theater. Across the way is Main Street Books, our favorite Sarasota book store. Pet the resident cats, Byron and Misha. Places to eat abound. We recommend El Greco (greek; the rehearsal dinner will probably be held there) and Tropical Thai. South of downtown is the Marie Selby Botanical Gardens. Further south still is Siesta Beach, world-famous for its powdery white sand. Siesta City is a fun, casual beach town.

Taking the Ringling causeway out will lead you to St. Armands Circle. It's an expensive but pedestrian friendly shopping-circle with a Ben & Jerry's and Cha Cha Coconuts (try their sweet potato fries with applebutter). Beyond is Lido Beach.

On City Island you can find Mote Marine Aquarium, where Julia has spent a great many hours. It's right across from the wonderful Pelican Man's Bird Sanctuary. You can eat near there at the Salty Dog (their signature dish is a hotdog deep fat fried in beer batter; they also have great keylime pie). Up north on Highway 41, in an unassuming shopping center in Manatee County is Sam O Jung, the best sushi we have ever had. Actually in Bradenton is the South Florida Bishop Planetarium Parker Manatee Aquarium, home of the oldest known manatee, Snooty. The Bradenton bus-system is the MCAT.